Well I guess
Old Man Winter
wanted to go out with a bang
.
It looks like we are going to get hit with 6-10 inches of snow tonight and tomorrow. I am excited because I love snow but I do worry about my family that has to get out and drive on these snowy days.
I think I will try to bake cookies tomorrow. I love to
cook and

bake
on days when it snows

or rains.
I will probably make the newest recipe I found for peanut butter cookies. They are AMAZING! I found the recipe on
Allrecipes.com
and it is really good
and take only a few

ingredients.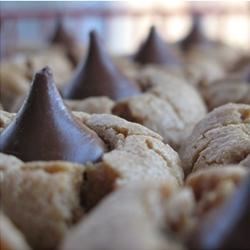 I don't have the Hershey Kiss
es

on hand
so I think I will give
this a try
with chocolate chips. Here is the recipe:
1 Cup of Peanut butter (I used creamy but I think either would be good)
1 egg
1 Cup of Sugar
Hershey Kisses
Bake at 350 degrees for 10 - 11 minutes. Don't overcook and they will be yummy and chewy.
That's it! I used my medium scoop and it made about 13 cookies. I cooked them for 10 minutes.
When I made my cookies I divided my sugar into three different kinds per the advice I saw from a reader on the Allrecipes website. So for the single recipe instead of the 1 Cup of white sugar I used
( 1/3 cup White Sugar, 1/3 cup of brown sugar and 1/3 cup of powdered sugar. ) and they were super yummy. I think this is awesome because there is no flour, no butter or oil just the three ingredients plus whatever chocolate you choose to use.
I really hope you try these because I think you will enjoy them.
This is a card using a digi stamp from
Wee Stamps
. You can find her images
HERE
. This pretty little fairy is called
Silver Fairy
. She is so cute. This is my first attempt at
coloring this image and

I
can't wait to color her again.
The little rosettes that are in the upper left had corner are super easy to make. I will try to put together a tutorial on how they are made in my next posting.
I hope you have a great snow day tomorrow and stay safe.
Jerri